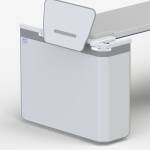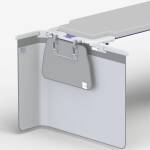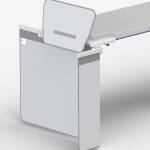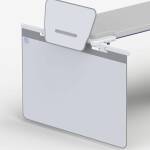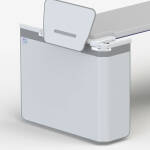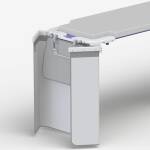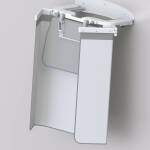 Head end table shield
313/A3
Lightweight and durable structure for an Allura AD7 table. Fixed central section and two pivotal side arms supporting a flexible curtain. Semi-flexible fold-down top shield included.
Head end table shield with fold-down top shield for use on a 500 mm wide Allura AD7 table only.
Detachably mounted onto the head end of the table.
Shield slides onto the 4 mm carbon fibre table top and maintains its position even when the table is tilted.
A lightweight, durable structure supporting a flexible lead curtain (0.5 mm lead equivalent).
Fixed middle section (57 cm), and two pivotal side arms (31 cm each).
Side arms can be formed around the user, individually extended forward along the table side, or folded neatly away according to preference.
The pivotal arms can be quickly re-positioned to allow full C-arm movement.
Optional wall storage rack is available, arms can be folded inwards to reduce wall space to a minimum.
Flexible 57 cm wide x 27 cm high top shield is included and can be folded down, or removed completely when required.
Size: width 119 cm x 80 cm high.
Weight: 15kg.